I went to a fair few small gigs recently. I've been moving house, but trying not to be a hermit who spends all their time making book­shelves.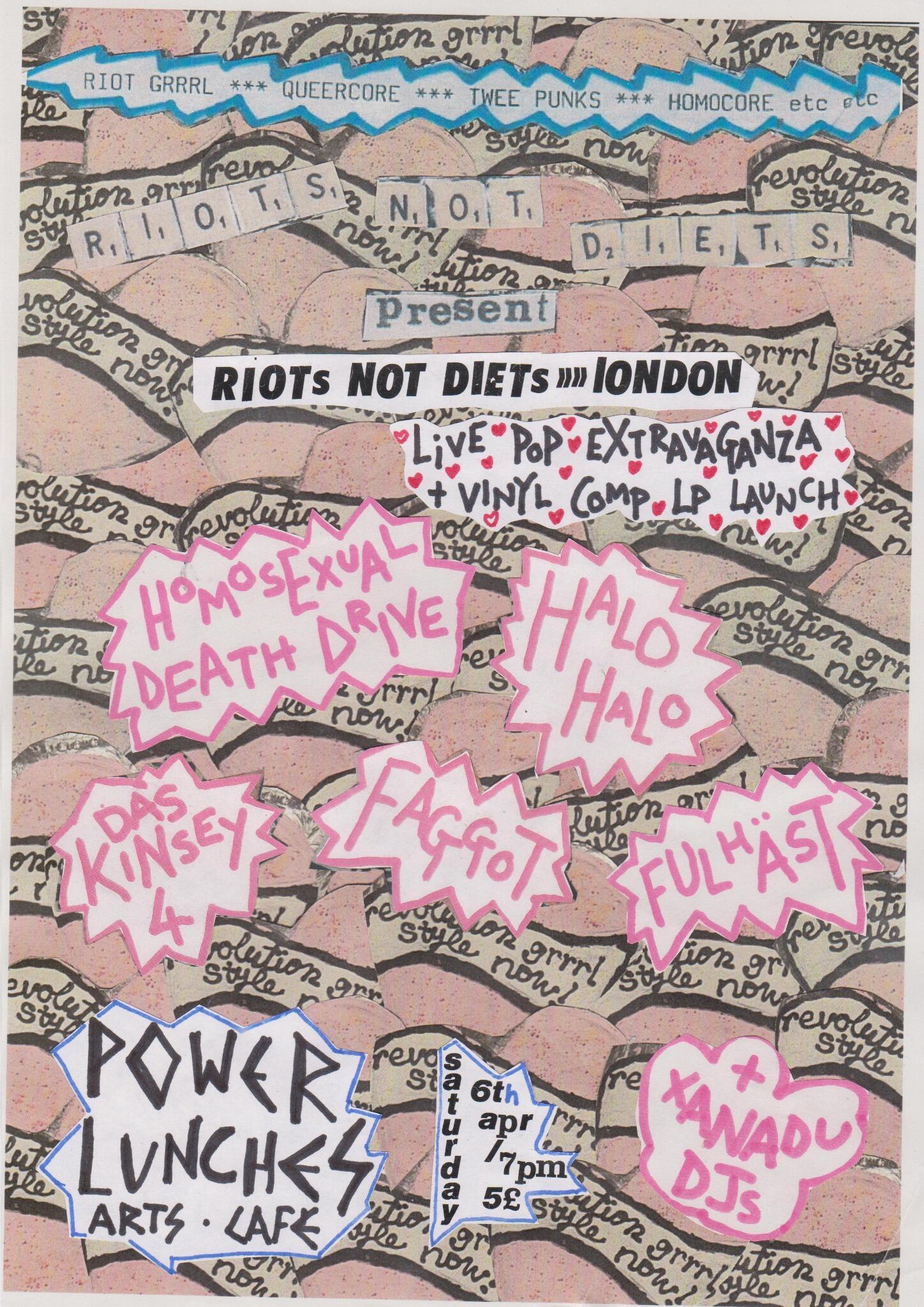 First up was Riots Not Diets at Power Lunches, the first London outing of one of my favour­ite Brighton nights. I first met Tobi when we were both copy­ing zines at the print centre, and he was also copy­ing the flyers for the first Riots Not Diets. That's a good way to meet people. The Brighton edition includes a film screen­ing, because T is a film projec­tion­ist by profes­sion. He couldn't be bothered to bring the equip­ment for that to London, but there was still the same lineup of queer and female fron­ted bands.
Power Lunches is a tiny café on Kings­land Road. Upstairs they have a bar and small art exhib­i­tion, down­stairs is a a base­ment with a rick­ety plywood stage for music. The base­ment is dingy, the toilets are a bit grim, there are hardly any seats, and the open­ing times are a little myster­i­ous, but I love the place. The atmo­sphere is great, the staff are nice, and the drinks are cheap, and I've never failed to have a really nice time there.
Riots Not Diets was the launch night for their compil­a­tion, which is well worth getting (and also features my friend Ellie who I used to run the Brighton Zine Fest with). The two stand out acts for me were Homo­sexu­al Death Drive, with their close harmony singing and luchador masks and hand­ing out of stream­ers, and Halo Halo, the head­liners who were incred­ibly tight.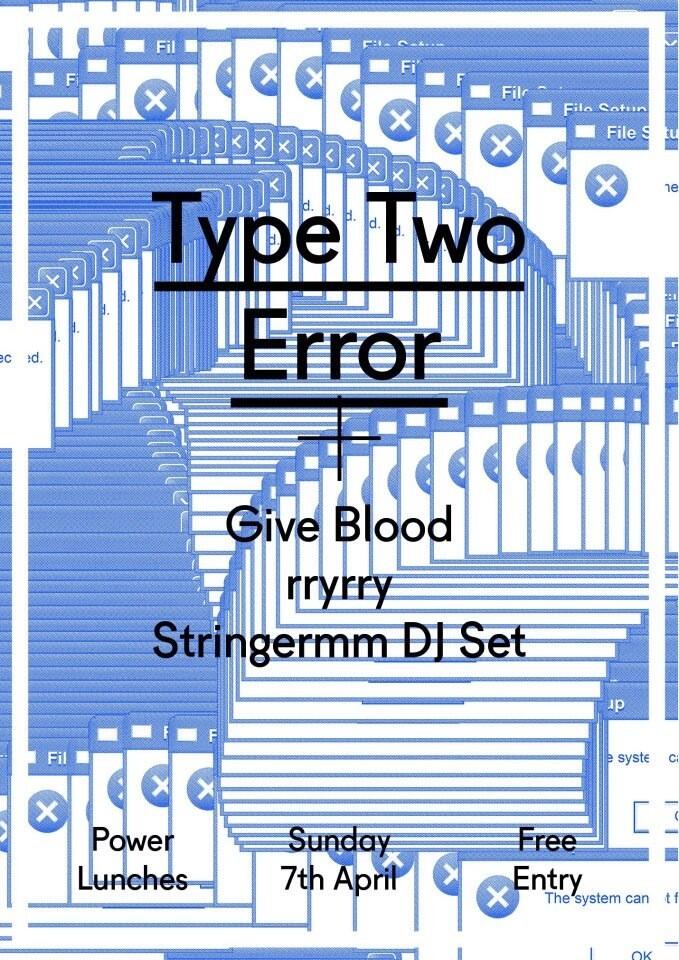 The next night I was also at Power Lunches, this time to see Type Two Error, one of whose members I knew from Read­ing (and hadn't seen in a long, long time). They don't seem to have any music online that you can listen to, but I suppose you could look at their tumblr of reblogged photos of things they like/​instagram photos and imagine some music, prob­ably entirely wrongly.
I also liked the sound of the support, Give Blood, from the descrip­tion on the flyer. I liked the sound of them in real life too, because I like synthpop, and the sing­er was obli­gingly sport­ing a Tears for Fears hair­cut. It's the future. Or 1987. Both bands well worth seeing.
Also, I feel I should mention this place in Esto­nia right now. It's a bar in Tallinn that only plays Depeche Mode, and is decor­ated with pictures of Basil­don. I've been there twice. Once on my birth­day. I didn't plan to spend my birth­day in the Depeche Mode bar, it's just if you're in Tallinn on your birth­day, and see a place like that, I think it's required you go there.
I went to this gig with Melanie, who is gener­ally game to go to things if they're free, and who didn't mind that I wanted to go to a gig where I had no idea what the music soun­ded like. Luck­ily it turned out to be exactly her type of thing.
I was supposed to go and see UpCDownC, but I was tired from work and moving, and I fell asleep fully clothed at 8pm. (And woke up very confused at 3am). Instead I went to see Chris and JimE from UpCDownC's new project, the Parade, later in the week at the Stron­groom. I've seen UpCDownC a million times, but this was only the Parade's third gig. They had teamed up with Mosh and Sam from Lupen Crook and the Murder­birds and Jemimah Dean to form some sort of Medway super­group. I've known these people a very long time.
When they were teen­agers in the 90s, Chris Garth and Mosh had a grunge band togeth­er. When that came to an end around 2000 or so, they did their own projects and the odd collab­or­a­tion, but I think this is the first time they've had a band togeth­er since. JimE and Mosh also used to be in a band called Bonzai Rese­voir with a guy called Magic Lee who has a waist-length beard and plays the saxo­phone. I think every­one needs to see more of Magic Lee.
They combined the dark folk aspects of Mosh's solo stuff, with male/​female vocal harmon­ies and JimE's elec­tron­ics (and refus­al to wear shoes on stage). Also anoth­er band very worth seeing. My friends John and Morgan also came along.
Before the band there was a show­ing of anim­a­tions and sounds by Max Hattler. After­wards me & John real­ised that we have ruined things like that for ourselves. I found myself spend­ing the whole time think­ing things like "is that done on AfterEf­fects or Flash? Ah, so that layer must be set up like that", and he was think­ing simil­ar things about the sound program­ming. Learn­ing how things are done ruins your life I guess.